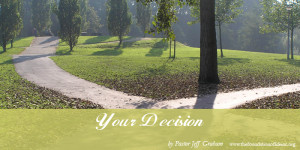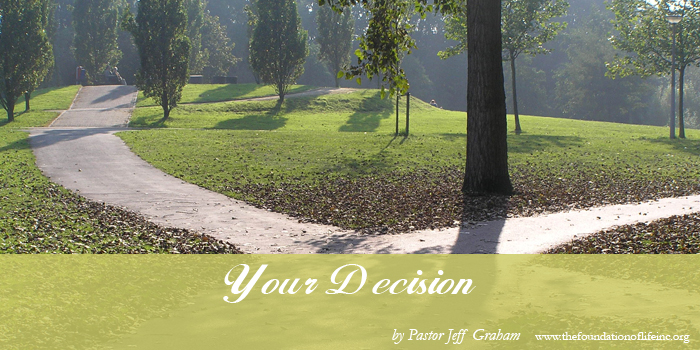 What will you do with Jesus? Will you say that he never existed? Will you say that He was just a good man, and like other good men did some great things, maybe even impacted the world? Will you say that His message was nice and good, but really has no relevance for me today; especially in this enlightened age? Your decision for Jesus Christ should not be based on what your friends or relatives say or do not say…or on your own private understanding. These really, in the final analysis, do not matter! What is important…and what will govern your tomorrow in ETERNITY is what does the Bible say? In light of God's standards, set forth in the Bible, your final destiny will be determined. You can, as many do, simply choose to ignore Christ and the Bible…and go on living your life, doing the best you know how, to wrestle with your problems, work to try to provide an income for your family, try to set enough aside for a brief retirement…but then what? What happens when it comes time for you to depart from this earth? Then what will you do with Jesus? It takes no decision on your part to go to HELL!  It does take a decision on your part, to go to Heaven!  For I delivered unto you first of all that which I also received, how that Christ died for our sins according to the scriptures; and that He was buried, and that He rose again the third day according to the scriptures [1st Cor. 15: 3,4]. This is what Jesus Christ says; 'Do not be afraid; I am the first and the last. I am He who lives, and was dead, and behold, I am alive forevermore. Amen. And I have the keys of Hell and of Death' [Rev. 1: 17, 18].  GOD SENT HIS SON JESUS CHRIST FOR YOU!!  " I am the way, the truth, and the life, no one comes to the Father except through Me"  [John 14: 6]  'Believe in the Lord Jesus Christ, and you will be saved' [Acts 16:31]
IT IS YOUR DECISION!
Jeff G. Graham   541-251-2437  info@thefoundationoflifeinc.org       The Foundation of Life Inc.