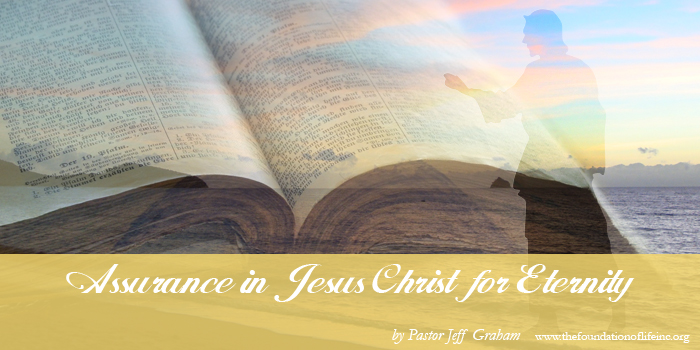 Assurance in Jesus Christ for Eternity
by Jeff G. Graham
One of the biggest misunderstandings about God today is His character. We will show that our God is not only a God of deliverance; but He is a keeping, guarding and preserving God! We will show that those who put their trust in Jesus Christ are eternally kept and safe in God Himself!
Before we begin to look at the character of our God, let's look at our salvation itself; to be 'born again' or more literally 'born from above' is a personal salvation which takes a lost soul out of death and into life. Listen to the words of our Lord on this: "Verily, verily, I say unto you, he that heareth My word, and believeth on Him that sent Me, hath everlasting life, and shall not come into condemnation; but is passed from death unto life" (John 5:24). Death in the Bible always means separation; for instance, at the death of the body the soul and spirit are separated from the body. Mankind today is spiritually dead and separated from God—"But your iniquities (sins) have separated between you and your God, and your sins have hid His face from you, that He will not hear" (Isaiah 59:2), "For all have sinned, and come short of the glory of God" (Romans 3:23). Being separated from God in our sins 'beyond' the death of the body; will cause separation from God for all eternity (please see Luke 16: 19-31).
To us who have believed in Jesus Christ as OUR Savior here is good news: "And you hath He quickened (made alive), who were 'dead' in trespasses and sins; even when we were dead in sins, hath quickened (made alive) us together with Christ, by grace you ARE saved" (Ephesians 2: 1,5). To quote from the late Dr. Walter Martin: "there are no abortions in the kingdom of God". The same power that God used to raise His Son from the dead He worked in you when He made you a new creation in Christ (see Ephesians 1:20). After He made you new in Christ He gave you a position with Jesus Christ in Heaven: "And hath raised us up together, and made us sit together in heavenly places in Christ Jesus" (Ephesians 2:6). Listen to what the scripture has to say about our Savior: "For Christ is not entered into the Holy places made with hands, which are the figures of the true; but into heaven ITSELF, now to appear in the presence of God for US" (Hebrews 9:24).
We can have strong confidence in our eternal standing in Christ; because our wonderful God is utterly faithful based on His character. The apostle Paul says; "Being confident of this very thing, that He which hath begun a good work (salvation) in you will perfect it until the day of Jesus Christ" (Philippians 1:6). At this point in our study, I must say a word about the false teaching saying that God is done with the nation of Israel; and that the church is now the 'new Israel'. This false teaching known as replacement theology is an attack on the character of our great God. Way back in Genesis 12; God promised Abram (even before he became Abraham) that He would make a great nation (Israel) through him. God had told Abraham that He would give not only the land of Canaan for an EVERLASTING possession; but make out of Abraham a great nation (Israel) for an EVERLASTING covenant (Genesis 17:7,8,19)! When the Lord says everlasting; He means it! This is our faithful God: "Thus saith the Lord, which giveth the sun for a light by day, and the ordinances of the moon and of the stars for a light by night, which divideth the sea when the waves thereof roar; the Lord of hosts is His name: if those ordinances depart from before Me, saith the Lord, then (and only then) the seed of Israel also shall cease from being a nation before Me FOREVER" (Jeremiah 31:35,36). God says of His people Israel: "I will make thee an ETERNAL excellency, a joy of many generations" (Isaiah 60:15). Even the angel Gabriel told Mary of Christ: "And He shall reign over the house of Jacob (Israel) FOREVER; and of His kingdom there shall be no end" (Luke 1:33). The God of the Bible; the God and Father of our Lord Jesus Christ, keeps His promises and is utterly trustworthy—"And this is the promise that He hath promised us, even ETERNAL life" (1st John 2:25)
You became a new creation in Christ, when you received the forgiveness of your sins; and the gift of eternal life—"Therefore if any man be in Christ, he is a new creature: old things are passed away; behold all things are become new" (2nd Corinthians 5:17). I leave you my friends with a wonderful quote by the late Donald Grey Barnhouse: "You can no more take the believer out of Christ than you could take Christ out of God". This is not arrogance; but biblical fact—"For you have died, and your life is hid with Christ in God. When Christ who is our life , shall appear, then shall ye also appear with Him in glory" (Colossians 3:3,4).